clinically tested and certified, safe, medical therapy for children and newborns.​
Bioptron light can be used in children as a complementary therapy to reduce pain and promote healing in various types of conditions, such as:
pediatric dermal affections

endogenous eczema

upper respiratory tract infections

allergic respiratory diseases

pediatric musculoskeletal disorders

neurological disorders and deficits
It can be used in cases of
Venous infections - after injections, blood collections, fluid or blood infusion
Pressure sores in movement-impaired babies, skin rash caused by moist heat, diaper rash and frequently accompanied yeast infections, skin diseases, such as phlebitis, decubitus, intertrigo.
BIOPTRON® Quantum Hyperlight may only be used under medical supervision for children under 6 years of age! Treatment of the eye area should not be performed.​
"A course of BIOPTRON light therapy leads to complete recovery and significant improvement in 92% of children, while the effectiveness of drug therapy does not exceed 70%. Positive changes are noted after the 1st light treatment, while the 2nd or 3rd procedure reduces coughing, throat hyperemia, improves the nasal breathing, sleeping, appetite, reduces fatigue and irritability"
- Dr. Natalia A. Zhevago, MD, PhD Specialist in Photomedicine and Photoimmunology, Institute of Cytology, Russian Academy of Sciences, St. Petersburg, Russia.
​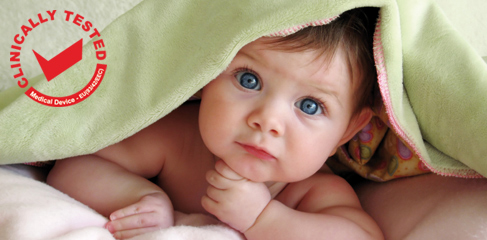 See page 40 in the book, it contains references for the above information
BIOPTRON IS A FAST, EFFECTIVE, SIDE-EFFECT FREE AND ECONOMICAL THERAPY FOR CHILDREN, BABIES AND NEWBORNS​
BIOPTRON is used to treat:
Skin conditions, such as eczema

Minor wounds, injuries and burns (bruises, rash, redness of the skin etc.)

Allergic respiratory diseases, such as asthma

Infections of the upper airways (common cold, sinus infections, tonsillitis)

Muscle, joint and bone conditions (arthritis, muscle spasm, sprains, strains, etc.)

Sports injuries (sprains, strains, contusions, tendonitis, ligament and muscle tears)
​